Yardleys School safe to reopen after agreement with council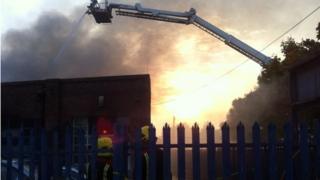 A school forced to close after an arson attack on a nearby warehouse will reopen on Tuesday.
Yardleys School, in Tyseley, was closed due to fears of asbestos contamination, after the fire on 29 September.
Birmingham City Council had advised the school to reopen on 10 October, but the head asked for written confirmation the site was safe to use.
Governors said agreements on cleaning and monitoring have now been reached with the council.
These included cleaning the school roof, replacing air filters, the completion of a "deep clean" and ongoing monitoring of air quality.
Areas of the school will remain out of bounds and fenced off while a fire damaged wall is made safe, the school said.
"We will monitor the safety of the site on a daily basis, since there remains a risk of recontamination during the demolition of the factory," a school statement said.