Black Country dialect lessons for New Cross Hospital nurses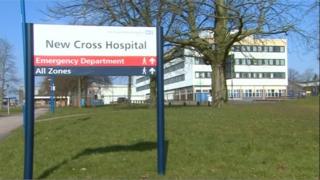 Nurses recruited from overseas to work at a Wolverhampton hospital are being given Black Country dialect lessons.
The recruits, from Europe, are being taught phrases like "cake-hole" - meaning mouth - to help them understand the distinctive West Midlands brogue.
New Cross Hospital launched an overseas recruitment drive after its staffing levels were criticised.
Head of Nursing Education Lorna Southan said patient feedback on the new staff had been "very positive".
New Cross recruited 59 European nurses following November's report, with more due to arrive in January.
'Weird accent'
Language classes have been offered to any new staff struggling to get to grips with the local accent.
"Cat-lick", meaning "quick wash", and "tara a bit", a common substitute for goodbye, are among the phrases being taught.
Bost or bostin'? A guide to Black Country slang
Ah bist? - How are you?
Blart - Cry
Bost - Broken
Bostin' - Very good, excellent
Chobble - To chew food
Collywobbles - Feeling unwell
Jimmuckin - Shaking
Jed - Dead
Modlums - Breast feeding
Nuss - Nurse
'Ospital - Hospital
Tuth - Tooth
Wazzin - Throat
Afrodite Karga, from Greece, said she struggled with the local accent at first but now found it much easier to understand.
"I went to my ward for the first day in my job and I couldn't understand many things because the accent was very weird for me," she said.
"But now I can understand a lot of things. I think I can understand them totally."