Three sought over £16m heroin bust' in Oldbury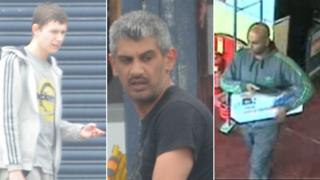 Three men are being sought after heroin with an estimated street value of £16m was seized in the West Midlands.
The heroin was concealed within metal lathes and shipped to London Gateway Port from Pakistan and then delivered to an industrial unit in Oldbury.
Seven men, six from the West Midlands and one from Surrey, have been arrested since the unit was raided on 5 July.
The National Crime Agency said the three other men were believed to be from the Birmingham or Sandwell areas.
The first man was approximately 20 years old and thin with short brown hair.
'Key information'
He was present as the container was unloaded and spoke at length with one of the arrested men, the agency said.
The second man was Asian, aged between 40 and 45, and has greying short black hair. He used a fork lift truck to unload the container during the morning it arrived at the unit.
The third man was Asian, aged between 30 and 45, and of medium build. Investigators said they believed an angle grinder he bought on 5 July was used to dismantle the lathes at the unit.
Although the drugs were found was in July, the National Crime Agency has only just released details of the raid.
Paul Risby, NCA Birmingham Branch Commander, said: "We believe these men are connected to this large heroin seizure.
"They may have key information that will assist us with our investigation.
"I'd urge them to come forward. I'm also keen to hear from members of the public who might recognise them."
The seven arrested men were released on bail until January.