Birmingham council plans school crossing and pest control cuts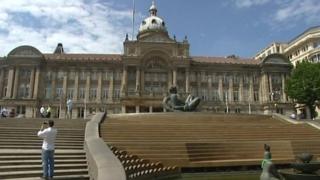 Pest control and school crossing services may be cut by Birmingham City Council under latest spending plans.
Both are listed as low-priority in the authority's 2015/16 budget green paper.
Arts and museums and the budget for Marketing Birmingham - which the council said attracts business to the city - are listed as high priority.
It said child protection is its highest priority, and will see a funding increase after "years of underinvestment".
Council leader Sir Albert Bore said the authority expects to make £150m of cuts next financial year, compared with £85.7m for the current year.
He said some services the council currently provides to schools - including catering, cleaning, and crossing patrols - could be paid for from direct education budgets from the government.
"There is now a debate to be had with schools as to whether they provide those services from the dedicated schools budget," he said.
Sir Albert said pest control, which the council is not legally obliged to provide, may have to be paid for from residents' own pockets.
"It can be provided by a private sector operator and residents of Birmingham paying for it, rather than receiving a subsidised or free service from the city council," he said.
Sir Albert said the decision to class arts and museums as high priority was partly based on Birmingham's size and status.
"Any other city across Europe would provide what we do because they are what they are," he said.
He said ranking the council's spend of "just several million" on Marketing Birmingham helped to sell Birmingham as a place to do business.
"We seek overseas... and across the UK to bring companies into Birmingham in order to provide jobs for Birmingham people," he said.
The authority is inviting responses to the proposals throughout November before it finalises its plans.