Dudley Council warns more than 300 jobs at risk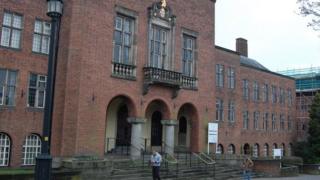 More than 300 jobs could be lost at Dudley Council as it tries to save £57m over the next three years, the authority has warned.
It follows savings of £60m already made since 2011.
Road maintenance, free school transport and arts funding have been earmarked for cuts, and the council plans to "streamline" its senior management staff from 22 to 11.
Council bosses say they "hope to keep compulsory redundancies at a minimum".
David Sparks, leader of the Labour-controlled council, said: "There is no doubt about it that finding savings of this scale are more difficult for Dudley than most authorities in the country as Dudley Council is already a low-tax and low-spending authority.
"By 2017-18 we will have seen our budget literally cut in half which illustrates just how difficult the task is."
At the same time, the council has announced a new chief executive Sarah Norman, who will receive an £8,000 pay rise on her long-serving predecessor John Polychronakis, who is retiring.
Dudley Council said Ms Norman would start the £165,000 post in the new year.
In a statement, the local authority said the salary had been reviewed as part of a wider restructuring expected to save £1m.
It said the new chief executive would oversee "a very different authority" to her predecessor.
A full budget report is due before cabinet on 29 October.