Enormous owls to descend on Birmingham in public art exhibition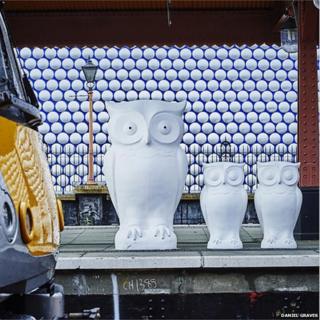 Hundreds of enormous owls are to descend on Birmingham in a city-wide exhibition of public art.
"The Big Hoot" will see more than 100 individually-designed 165cm-tall owl statues appear throughout next summer.
Local artists will customise the owls, with hundreds more 90cm-tall birds to be decorated by children across the West Midlands.
It is a fundraising project involving Birmingham Children's Hospital and Wild in Art.
A handful of owls and owlets have already been brought to the city to demonstrate what the trail will look like, posing at New Street Station, the Library of Birmingham, Birmingham Children's Hospital, and the Bullring shopping centre.
Organisers said the idea was to "enable people to become a tourist in their own city" and "encourage residents to discover areas of the wider region which they may not have explored before".
Wild in Art is the company behind a similar exhibition in Bristol, which featured giant statues depicting Gromit of "Wallace and Gromit" fame.
It also put together an Olympic mascot trail through London ahead of the 2012 Games.
The Birmingham project will be funded by corporate sponsorship and the statues auctioned at the end of the summer.
Chief executive of Birmingham Children's Hospital, Sarah-Jane Marsh, said she hoped the owls would raise £500,000 for the hospital.
"This donation will help to support the ground-breaking work we carry out at the hospital, but more than that, the Big Hoot will also inspire pride in our much loved city."
Sally-Ann Wilkinson, director of Wild in Art said: "The initiative is designed to unite communities and boost the profile of the city as a whole, and we're looking forward to getting started."