Great Birmingham Run entrants warned of rail engineering works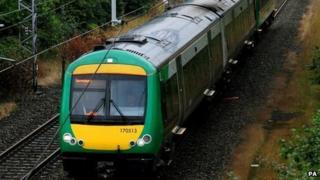 Thousands of people due to take part in the Bupa Great Birmingham Run are being warned about rail engineering work that may affect travel plans.
Train operator London Midland said there will be no services between Coventry and Birmingham, until 10:24 BST on Sunday.
About 21,000 runners are expected to take part in the 13.1-mile race, which starts just after 10:00.
London Midland said the work was "unavoidable".
A spokesman for the run said: "It's unfortunate that some people's travel plans have been affected by the engineering works but we hope this doesn't impact too significantly on their enjoyment of the day.
"We will continue to work with Birmingham City Council and public transport providers to provide access to the event, and with that in mind the 2015 date of 18th October has already been announced."