Birmingham MP John Hemming loses 'garden tax' challenge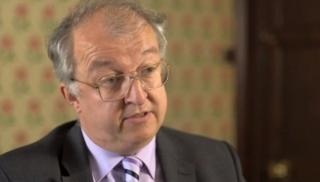 Birmingham MP John Hemming has lost his court challenge against Birmingham City Council over its so-called garden tax.
The Liberal Democrat MP for Yardley had argued the council has a statutory duty to clear green waste dumped on streets.
He said instances of fly-tipping had increased since the authority began charging for garden waste collections.
But his claims were dismissed at Birmingham Magistrates' Court by District Judge Robert Zara, who ordered the MP to pay more than £13,000 costs.
Mr Hemming said he would be appealing against the decision.
In February, the council introduced a £35 annual fee for the collection of garden waste and was accused of sparking a rise in fly-tipping.
'Challenging financial situation'
Mr Hemming had brought the case to court on the basis the council had a duty under the Environmental Protection Act to keep land under its control clean of litter.
He had hoped the court would issue a litter abatement order requiring the local authority to remove litter dumped in Yardley
Speaking after the case, he said he had been told the act did not allow for a single, open-ended order covering an entire constituency.
"In essence what it says is I need to issue a large number of litter abatement orders," he said.
"But I don't think that's the best way forward."
He said although "a lot" of dumped rubbish had been cleared after he brought his court action, his constituents had contacted him to say they were still unhappy with the council's waste collection policy.
"They want me to keep on fighting to clean up Yardley in the most effective way possible," he said.
He said the council - which has previously refused to collect dumped green waste - had "gone mad".
"The council has the view that not removing fly-tipping discourages fly-tipping when the opposite is true," he said.
Councillor Lisa Trickett, the council's cabinet member for A Green, Smart and Sustainable City, said: "We regret the resources yet again taken up in what was essentially pointless court action when we could have put our energies into collaborating on ensuring citizens have clean, well-managed streets.
"We are pleased the courts have supported the view we have repeatedly expressed to Mr Hemming - we have made every effort to deal with the issue of dumped green waste during the transitional first year of our new chargeable service."
Mr Hemming was ordered to pay the council's court costs of £13,101.56.