Ebola death: Walsall GP's grief over sister's loss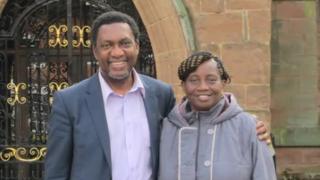 A Walsall GP has spoken of his grief after his doctor sister died when she contracted the Ebola virus while treating patients in Sierra Leone.
Dr Olivet Buck, a 59-year-old mother of three, caught the disease on 8 September and was immediately put into isolation. She died six days later.
Dr Albert Benjamin said his sister was aware of the risks but felt it was her duty to carry on working.
He said her loss was a "tremendous blow".
"She was a very determined person, such a dedicated professional," said Dr Benjamin. "She focussed on the people in front of her who were suffering."
Dr Benjamin said he had spoken twice with his sister on the phone while she was in isolation, and could hear her rapidly weakening.
He said he had tried to get her flown out of Sierra Leone to receive care, but was told that her African nationality did not fit the criteria for evacuation.
He believes she should have received similar treatment to the British nurse William Pooley, who recovered from Ebola after he was treated in the UK.
"I absolutely have no doubt that if this had been acted upon at the time, the outcome for her would have been different," Dr Benjamin said.
"Unless we can construct similar high quality facilities locally [in Africa] then to me it becomes unethical not to avail healthcare workers of facilities that exist elsewhere."
The pair were born in Sierra Leone, where Dr Buck stayed to start a family and pursue her medical career, while Dr Benjamin came to the UK in 1969.
A spokesperson from the Sierra Leone Presidential Task Force described Dr Buck as a heroine "lost in the line of duty".
The outbreak has killed more than 3,865 people, mainly in West Africa, according to the World Heath Organisation. More than 200 health workers are among the victims.