Crushed PC Peter McGinn returns to work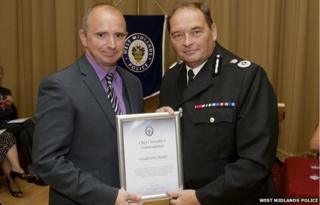 A police officer, who was crushed by a car as he tried to stop a burglar escaping, has returned to work.
PC Peter McGinn, was pinned against a lamp post after a burglary in Birmingham in June 2013.
He suffered multiple fractures to his legs and pelvis and has since undergone a series of major operations and physiotherapy.
The 45 year old has returned to work and been nominated for the national Police Bravery Awards.
"I'm only doing three hours a day at the moment and juggling shifts around hospital appointments and physio − but it's just great to be back," he said.
"It's still very painful now. It's been a long road, 15 months, four operations, but I've had a lot of support especially off my wife."
The officer said he thought he was going to die at the scene and asked colleagues to tell his family that he loved them.
Emergency surgery
Burglar Carl Anderson, who was later jailed for 12 years, was making a getaway after a break-in in Erdington.
As he tried to drive away, PC McGinn held on to the driver's door and attempted to grab the keys.
A court heard Anderson's reaction was to stamp on the accelerator, crushing the officer between the door and the lamp post.
PC McGinn underwent six-hours of emergency surgery, had metal pins and plates inserted in his left leg and hip and an artificial ligament in his knee.
He also had a nerve transfer operation in a bid to return feeling to his right foot, which he has not been able lift since the attack.
The 45-year-old is currently office-based, helping with telephone inquiries and is due to undergo another operation next month.
"I'd like to get back to front-line policing, but whether my injuries will allow me to do that I don't know," he said.