Cuts protest in Birmingham as Conservative conference starts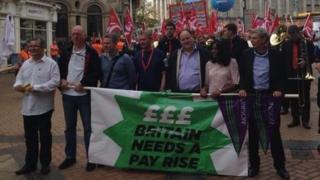 Hundreds of people have been protesting against government cuts in Birmingham as the Conservative Party stages its annual conference in the city.
The Hard Up Festival in Victoria Square has been organised by the Midlands TUC.
Unions said low pay and falling living standards have become "the norm" for too many people.
Conservative politicians and activists are in Birmingham for their final conference before next May's general election.
'Abolish' youth unemployment
TUC General Secretary Frances O'Grady said: "Ministers may keep telling us that growth has returned and that we are in the middle of a recovery, but it doesn't feel like that to people across the Midlands.
"Unemployment may be falling, but many of the jobs being created are of the low-paid, insecure kind."
Speaking on the BBC's Andrew Marr show on Sunday, Prime Minister David Cameron said his party would cap benefits further to fund three million apprenticeships if it wins the general election.
Mr Cameron said he wanted to "abolish" youth unemployment.