Birmingham QE Hospital deaths: Police probe chlorine link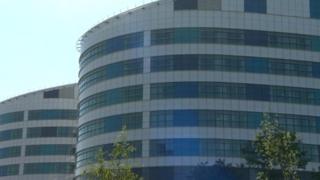 Police are investigating concerns the deaths of two patients could be linked to high chlorine levels in a hospital water supply.
Staff at the Queen Elizabeth Hospital in Birmingham raised concerns over some items of medical equipment, West Midlands Police said.
The trust said the two patients were receiving dialysis which used water from the affected system.
It said the coroner was notified due to the "remote possibility" of a link.
The two patients who died were being treated in critical care when a higher than normal level of chlorine was detected in the hospital's water system on 4 August, University Hospitals Birmingham NHS Foundation Trust said.
The two patients died on 11 and 12 August and the trust said the matter was referred to the coroner's office "as it was appropriate that any causal link should be established independently".
University Hospitals Birmingham said immediate action was taken and bottled water was supplied to staff and patients.
Two further instances of higher chlorine levels were detected on 7 and 12 August, the trust added.
Police said they were initially contacted by the coroner and inquiries were at an early stage.
Officers said they were "working with the hospital to try to determine what has happened".