New Marston's Wolverhampton HQ plan revealed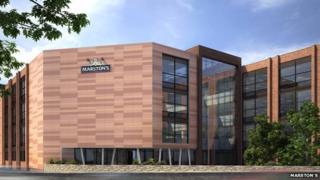 Plans to rebuild the headquarters of Marston's brewery in Wolverhampton have been announced.
The existing 1960s Chapel Ash office block would be demolished and rebuilt from early next year under the multimillion-pound scheme.
About 500 people at the offices are expected to spend a year in the nearby Coniston House during redevelopment work under the proposals.
Marston's said it had submitted plans to Wolverhampton City Council.
A further 600 people work across the company's Wolverhampton sites, which include the main distribution base and the Park Brewery.
Marston's employs 13,000 people across the UK and owns and operates 1,800 pubs and five breweries.
Chief executive officer Ralph Findlay said: "We have been based on this site in Wolverhampton for nearly 140 years and are very proud of our heritage in the city.
"We are aware of our role as a prominent local employer and are keen to bring a development of this scale to the city."