Ian Henderson detained for killing mother in Walsall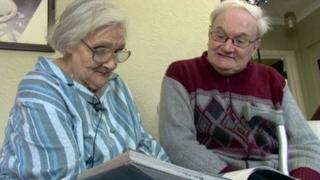 A mentally-ill man who struggled to care for his elderly mother has been detained after admitting killing her.
Ian Henderson, 63, denied murder but admitted manslaughter over the death of his mother Lillian, 86, in April 2013.
Mrs Henderson died in hospital three weeks after being found with multiple injuries at their Walsall home.
Henderson was given an indefinite hospital order at Wolverhampton Crown Court after doctors said he had a mental illness.
Judge Philip Parker told the hearing on Monday that Henderson was dependent on his mother and when her health deteriorated he could not cope.
The judge said Henderson, of Stephenson Avenue, had not intended to cause her serious injury.
'Roles reversed'
Mrs Henderson had previously been her son's carer. He had a series of strokes 15 years ago after being stabbed on his way to work as a porter.
Their case was raised in the House of Commons in June 2011 by David Winnick, the Labour MP for Walsall North.
Mrs Henderson had written to the MP to say she was struggling to meet new care contributions to fund the 10 hours of paid help her son received each week.
At the time, Mrs Henderson told the BBC she had to teach her son to read, write and cook again.
Police said Mrs Henderson never regained consciousness after being found at home with multiple serious injuries on 11 March 2013.
After the court case, Det Sgt Ian Wilkins, from West Midlands Police, said: "This is an extremely sad case that has seen a son convicted for the manslaughter of his mother.
"Ian was doted upon by his mother his entire life. When her health deteriorated, the roles reversed and he became increasingly frustrated, overwhelmed by the responsibility of looking after her.
"This ultimately lead to the assault that resulted in Lillian's tragic death."