Birmingham City fans Peaky Blinders tribute at home game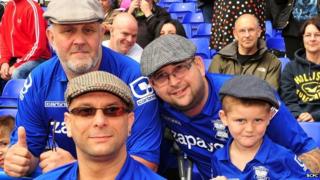 Fans of Birmingham City have dressed up as characters from the BBC Drama Peaky Blinders for their home match.
Dozens of supporters donned flat caps for the game against Leeds United in homage to the BBC drama which is set in Birmingham during the interwar years.
Andy Walker, from Birmingham City, said supporters have already travelled in character "en-masse" to several away fixtures.
"We were keen to replicate the same at St. Andrew's," he said.
However, a planned half-time screening of a trailer for the second series of the violent gangster drama was dropped as it was deemed unsuitable for younger supporters.
Set in 1920s Small Heath, the series takes its name from a real-life gang in the city who had razor blades hidden in the peaks of their flat caps.
In January, thousands of people turned up at casting auditions for the second series when they were held in the city.