Birmingham butcher to pay £62,000 for false halal sale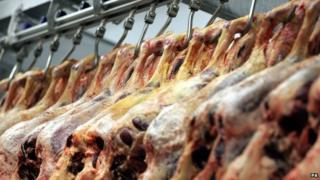 A Birmingham meat wholesaler has been ordered to pay £62,000 for falsely claiming meat to be halal.
JKY Food Solutions Limited pleaded guilty after selling a box of chicken purported to be halal to an undercover trading standards officer.
The company, of Bissell Street, Highgate, was fined £35,000 at Birmingham Crown Court on Wednesday and ordered to pay £26,910 court costs.
It has moved to new premises in Highgate and will continue trading.
Councillor Barbara Dring, who chairs the city council's licensing and public protection committee, said: "Food fraud is a major concern [especially for people] who follow strict dietary guidelines in line with their religious beliefs."
The company will pay £5,000 per month to cover the fine.
Halal meat, which has been killed in accordance with Islamic law, has to be approved by one of several bodies.