'Cockroach-infested' Wolverhampton takeaway boss handed suspended sentence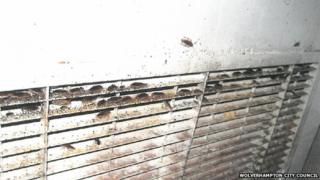 The former owner of a "cockroach-infested" Wolverhampton takeaway has been handed a suspended jail term.
Mohammed Rafiq, 40, repeatedly attempted to disguise the level of infestation on the premises despite 21 visits from inspectors in three months.
Rafiq, former boss of Express Diner in Lichfield Street, admitted having inadequate pest control procedures.
He was jailed for seven months, suspended for two years, at the city's crown court.
'Traps tampered with'
In addition Rafiq, who also admitted obstructing health inspectors, was ordered to carry out 140 hours unpaid work.
Wolverhampton City Council said they first inspected Express Diner on January 21 and found "an active cockroach infestation".
Mr Rafiq voluntarily closed the business and inspectors offered to assist the restaurant with advice on the placing of cockroach traps, they said.
On further visits, they became suspicious traps were being moved or tampered with to try and disguise the continuing presence of cockroaches.
The council launched a prosecution in March after inspectors found traps covered over with plastic bags.
Rafiq, of Deansfield Road, Wolverhampton, was charged and pleaded guilty when he appeared at Wolverhampton Magistrates' Court last month.
Magistrates deemed Rafiq's offences so serious they took the "highly unusual" step of sending the case to the crown court for sentencing, the council added.
The restaurant has since changed hands and is trading under a different name.