West Bromwich family escape suspected arson attack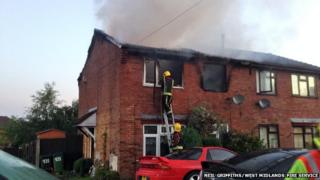 A family of five jumped from a bedroom window to escape a fire at their home in West Bromwich, which police said was started deliberately.
The fire, which started about 05:00 BST, destroyed the top floor and the roof of the house in Ruskin Street.
Diane Potter said two of her sons were taken to hospital. Her other son and seven-year-old grandson also escaped from the house, she said.
Fire investigators are trying to find out exactly how the blaze started.
Ms Potter said: "The whole of the stairs was a fireball, the windows were popping and blowing out, the flames were engulfing everywhere, I thought I was dreaming.
"My lads jumped out of the window and lowered my grandson to safety....I was screaming and bawling at my other son that we had a fire and not to come through his bedroom door so he jumped out of his window."
One of her twin sons, who are aged 15, was at Birmingham Children's Hospital after suffering burns to his throat and lungs, she said.
The other had been discharged from Sandwell Hospital.
Ms Potter said she had lost clothes and sentimental items which were in the loft.
"I've lived here for 18 years but who could have done this knowing I was here with my children, I don't know who would stoop that low," she said.
West Midlands Fire Service watch commander Phil Richards said the family "were seconds away from disaster."
"The fire spread rapidly up the stairs through the roof and came back into the bedrooms - you're talking moments between being alive and dead."
He said investigation teams were using sniffer dogs to find out how the blaze started.
West Midlands Police said it was treating the fire as arson and was appealing for any witnesses to come forward.