New £40m tram fleet for Wolverhampton and Birmingham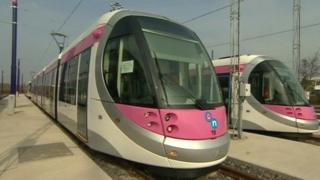 A new fleet of Midland Metro trams has started running between Wolverhampton and Birmingham.
The vehicles were built in Spain and cost £2m each.
Four trams have been introduced to the route and a further 16 will be added over the next few months to increase the route frequency to one tram every six minutes.
The replacements are larger than the previous design and can take 200 passengers per journey.
Geoff Inskip, chief executive of Centro, which operates Midland Metro, said: "They look special, they look much more comfortable than the previous trams, they are state of the art, 21st century trams."
The new vehicles will replace the current fleet of 16 trams, originally built in Italy, and in total will cost £40m.
Driver Paul Barefoot said: "They handle well around corners, they're a very nice smooth tram."
The Metro depot in the Black Country has been expanded to house the new fleet and £128m investment has been made for route extensions, due to open in 2015.
This includes plans for a new line through Birmingham city centre with a stop at New Street station and an extension to Paradise Forum and Centenary Square.
Centro claims this will boost the West Midlands economy by £50m a year and create 1,500 new jobs.
The company also wants to extend the route in Wolverhampton and submitted plans for this to the Department for Transport earlier in the year.