Wolverhampton city centre £1.6m road revamp enters next stage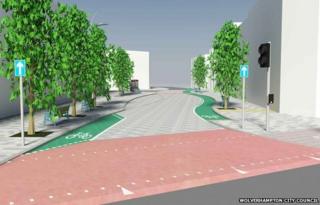 Work on the latest phase of a £1.6m city centre improvement scheme has begun in Wolverhampton.
Princess Street is to become pedestrianised and new one way systems introduced in Queen Street and Berry Street.
It is part of a wider scheme to reduce traffic in Wolverhampton's main retail areas.
The city council had originally planned to carry out the changes in a single phase at a cost of £5m.
Budget constraints meant the plans had to be revised and work carried out in phases, the council said.
It said traffic changes had already been put in place and work would now begin to improve the appearance of the affected streets.
Crews will remain in Princess Street and Market Street until Christmas, and resume in the New Year.