The Cook Shop in Old Hill near Halesowen closes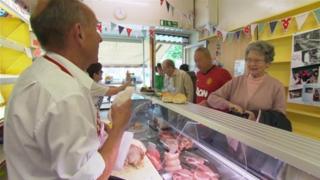 A 125-year-old family food business has shut after no-one showed an interest in buying it.
The Cook Shop in Old Hill, near Halesowen in the West Midlands, was put up for sale in June.
It sold faggots, Groaty Dick, bread pudding and sage and onion stuffing.
Nigel Brazier, the fourth generation of his family to run the shop, worked there for 49 years. He said: "It's very sad... it's the fun of selling faggots to people, that's what I will miss."
He said it was disappointing no-one had come forward to buy the business but added: "We gave it our best shot."
Seven staff - one full-time and six part-time - are leaving with redundancy payments totalling £11,000.