Gelada baboons given new hillside home at Dudley Zoo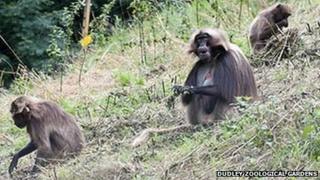 A £20,000 hillside habitat for a rare species of primate has opened at a West Midlands zoo.
The one-acre site at Dudley Zoological Gardens will be home to a family group of gelada baboons.
The geladas, which are native to the Ethiopian highlands, are also known as bleeding heart baboons, due to a bare patch of red skin on their chests.
A seven-week-old male gelada called Billie was the first to be born at the zoo since it opened 77 years ago.