Hundreds back Barbara Hepworth sculpture campaign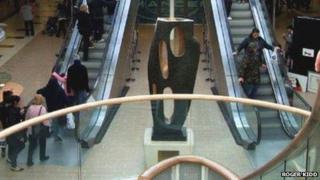 Hundreds of people have backed a campaign to return a Barbara Hepworth sculpture to a shopping centre.
Rock Form, thought to be worth more than £1m, was removed from The Mander Centre, Wolverhampton, in June.
The precinct is currently up for sale and campaigners fear there are plans to sell the sculpture separately.
Joint owners The Royal Bank of Scotland (RBS) and Delancey said they were looking at ways of allowing the statue to continue to be enjoyed.
More than 150 people have already signed a petition calling for Rock Form to be returned while hundreds more have "liked" a Facebook page.
'Ethical issue'
Former arts teacher Richard Warren, leading the campaign, said: "What's suspicious is their decision to remove the sculpture coincides with the sale of the shopping centre.
"It's as if they are trying to disassociate it so they can sell it privately."
Mr Warren said the sculpture had been in the Mander Centre since the opening in 1968.
He said it was offered to the previous owner at cost price on the understanding it was to remain in a public setting.
Although the exact value has not been revealed, another Barbara Hepworth's sculpture, Figure for Landscape, sold for more than £4m in June.
'Absolutely determined'
"The main issue is an ethical one," said Mr Warren.
"The understanding was 'this is there for keeps'."
Wolverhampton City Council is backing the campaign and has written to chancellor George Osborne asking for support.
Councillor Elias Mattu, cabinet member for leisure and communities, said: "We are absolutely determined to get that sculpture returned."
Delancey said in May it was reviewing public art installations as part of a £30m redevelopment of the Mander Centre and felt "a new piece of artwork may be appropriate for the redeveloped centre."
The fresh joint statement said no decision about the sculpture had been made. It added: "It has simply been removed pending a major redevelopment of the shopping centre."