Calls to reinstate Birmingham Trojan Horse head teachers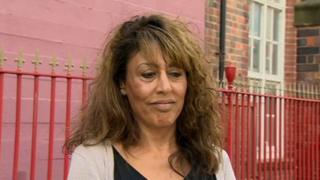 Three head teachers who left schools in Birmingham linked to the alleged Trojan Horse plot should be reinstated or compensated, the National Association of Head Teachers (NAHT) said.
Ofsted investigated 21 schools in the city over claims some Muslims had sought to take control.
The NAHT said it was reviewing 28 "compromise agreements" signed by senior staff who had left schools.
Birmingham City Council said it was reviewing key cases.
The union said at least three compromise agreements had "all the hallmarks of Trojan Horse pressures".
'Careers lost'
Rob Kelsall, Senior Regional Officer at the NAHT, said: "We've already seen evidence in at least three of those cases that are without doubt Trojan Horse related .
"We've therefore written to the local authority seeking to review those settlement agreements with a view to either restoring the heads to their rightful place and/or seeking further and additional recompense for the careers that have been lost by this whole affair.
"In all the cases we need to review the information the council had at the time of the compromise agreements."
The NAHT said the three cases already identified related to former heads Balwant Bains, Saeeda Bano and Liz Manley, who were respectively head teachers at Saltley School, Nansen Primary and Ladypool Primary.
All three school were investigated by Ofsted.
Mr Kelsall said: "Certainly in the case of Balwant Bains, that was taking place in January 2014 yet we know the council was in possession of that [Trojan Horse] letter since last November.
"There are huge questions about the how that process was allowed to go on when that was known."
A Birmingham City Council spokesperson said: "There are no current legal proceedings from head teachers, though we are in continued dialogue with the NAHT and are reviewing key cases as recommended by the Ian Kershaw review."
The Kershaw review was a council-commissioned inquiry into the Trojan Horse affair.
'Trumped up charges'
The NAHT said its investigations were expected to continue until December and there may be cases beyond the three already identified.
Mr Kelsall added: "These are the ingredients we're talking about:
"Where governors are overstepping powers, where we're dealing with trumped up charges against head teachers who didn't follow governors' tunes.
"Where there are parents and educational activists agitating outside schools where they don't have even have children attending, and also where frivolous and vexatious complaints are made to authorities about head teachers and things taking place at their schools."
The union's claims came on the same day a principal of one of the schools investigated returned to her post after resigning due to "undue pressure" from governors.
Bhupinder Kondal handed in her notice at Oldknow Academy in January.
The previous trustees of the academy have now been replaced.
'Deserted parents'
Speaking after withdrawing her resignation, Ms Kondal said: "The pressures outlined in the Trojan Horse letter are very real and it mustn't be allowed to happen again."
The Trojan Horse probe was sparked by the emergence in March of an anonymous letter which claimed to be a template showing how state schools could be taken over and pushed into adopting a more Islamic culture.
Investigations by Ofsted ultimately led to five schools - including Small Heath-based Oldknow - being placed in special measures.
Shabina Bano, chair of the Oldknow Academy Parents' Association, said parents would welcome Ms Kondal back because they wanted "stability as soon as possible".
But she added: "At the same time we want to know why she deserted parents. These questions have been left unanswered.
"She has not been held to account. The governors have been made to resign.
"Has she come back because she wants to take the school forward or is she fulfilling a personal vendetta?"
The Secretary of State for Education, Nicky Morgan, has previously said Oldknow Academy would lose its funding and the trust would be dissolved.
But funding could be restored if Department for Education (DfE) officials are satisfied with the new governors' plans to improve the school.