MP calls for end to Birmingham flight path trials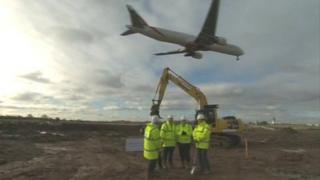 Conservative MP Caroline Spelman has called for the transport secretary to stop flight path trials being carried out from Birmingham Airport.
The airport began a six-month trial for two potential new flight paths in May, as part of a runway extension.
But some residents claim noise levels have increased and have organised a petition calling for a rethink on the flight paths.
Ms Spelman called for Patrick McLoughlin's "urgent intervention".
Meriden MP Ms Spelman said it was "very hard for the community to tell" which flight paths were better or worse for residents.
"I think we need the transport secretary to intervene and review what has gone wrong here. We have had three months of trials and they aren't going very well.
"The airport isn't able to fly these routes accurately and we can't afford to just let these trials drag on where it is not working properly."
Dave Ellis, from Balsall Common Action Group, which has organised the petition, said noise levels had increased.
"The noisiest planes are outgoing ones because they are fully laden and there's some new routes coming in," he said.
The airport, which has been contacted for a comment, is expected to submit its findings to the Civil Aviation Authority following the trials.
Work to add an extra 400m to the existing runway began in November 2012, after years of planning.
Airport bosses hope the longer runway will allow it to provide flights to more long-haul destinations.
The airport insisted it would assess the impact of the trial once it had ended.