Thousands attend Birmingham Eid celebration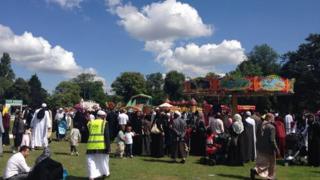 About 40,000 people have gathered in a Birmingham park for one of the biggest Eid events in the UK.
The festival, held at Small Heath Park, marks the end of the holy month of Ramadan, during which Muslims fast.
Organiser Waseem Khan said many of those who came along joined prayers in the open air as well as enjoying food stalls, a fair and other attractions.
"It's amazing to have 40,000 people and have a fun and enjoyable time here," he said.
"We tried to revive the prophetic tradition which was actually to pray outside in an open area and this is something that we facilitated today."