Birmingham teenager with dwarfism 'barred from buses'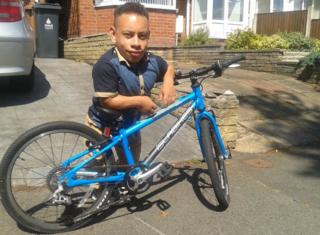 A boy with a form of dwarfism says he has been barred from buses five times in a fortnight in a row over his bike.
Kain Francis, 17, from Kingstanding, Birmingham, said the bike was a "lifeline" to a social life as he did not have "much stamina" to walk.
Kain, who is 3ft 5in (1.04m) tall, said one driver asked him for proof he was disabled.
National Express West Midlands said it would issue Kain a letter to show on buses to allow him on with his bike.
Kain said he was not allowed on buses in Sutton Coldfield, Kingstanding and Birmingham city centre with the bike, leaving him "pretty disgusted", annoyed and "stressed".
'A freak show'
Kain said he told one driver the bike was "my wheelchair".
He said: "I use my bike to get around everywhere... My bike's a lot smaller than any of the other usual bikes.
"It's embarrassing when you have to get on the bus and then get off the bus.
"It's awkward, almost like you're holding up the whole bus."
His mother, Luan Cridland, 43, said she was "completely irate" when Kain told her one driver asked for proof he was disabled.
Miss Cridland said: "He's a good lad. He doesn't need people looking at him like he's some sort of freak show."
A National Express West Midlands spokesman said bikes were not allowed on buses for health and safety reasons.
"The area where bikes would go is already a well-used space with buggies and pushchairs which get priority," he said.
He apologised "for any offence, stress or inconvenience caused to Kain" and said it would issue him with a letter confirming he had access to the company's buses.
Kain said the promise of the letter, which he has not yet received, was "reassuring".