Jobs lost as Unipart Automotive goes into administration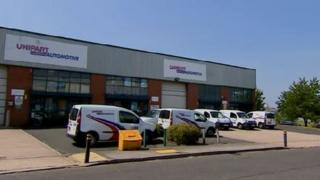 More than 1,200 jobs have been lost at one of the UK's largest car parts suppliers after the firm went into administration.
Unipart Automotive, based in Solihull, had been experiencing years of "financial stress", it said.
Despite "intensive efforts", a buyer for the whole company, which employed 1,813 people, could not be found.
A total of 33 out of 180 branches and distribution centres were sold to competitors, saving 361 jobs.
'Too much risk'
KPMG said a further 208 staff have been retained to assist its administrators, but the firm's remaining 1,244 staff were made redundant.
Administrators successfully sold 21 branches to rival firm Andrew Page, and 12 to The Parts Alliance.
Joint administrator Mark Orton, of KPMG, said Unipart Automotive posed "too much risk" for anyone to purchase the company as a whole.
"The level of cash and further operational restructuring required to rescue a more substantial part of the business posed too much risk for most interested parties," he said.
Former parent company Unipart Group, based in Oxford, said it was "saddened" by the loss of jobs.
The firm sold Unipart Automotive to Dutch firm H2 Equity Partners in 2011.
It retained a minority stake but exercised no control over the business.