West Midlands Police officer referred after 'sexist' tweet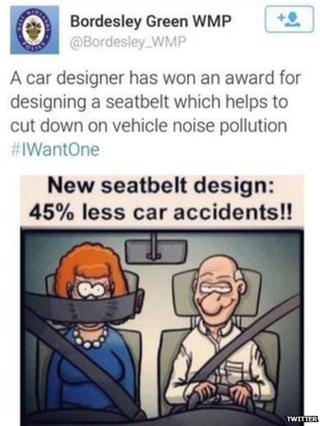 A West Midlands Police officer has been referred to the force's professional standards department over a "sexist and offensive" tweet.
It showed a picture of a man in a car with a woman who has her mouth covered.
The accompanying message said: "A car designer has won an award for designing a seat belt which helps cut down on vehicle noise pollution".
West Midlands Police said the post on its official Bordesley Green account did not reflect the force's opinion.
Insp Karen Winfield said: "An officer working on one of our neighbourhood accounts has tweeted a sexist and offensive picture which clearly breaches the force's social media policy.
"This was an inappropriate tweet, made by one member of staff, and it in no way reflects the views of the force.
"Social media can be an excellent way of communicating with local people and we trust our staff to tweet appropriately and sensibly, actively encouraging them to be engaging and friendly in their posts.
"However, occasionally mistakes are made and we apologise for any offence caused by this inappropriate use of one of our accounts."