Ex-Regents Park Primary School head and deputy admit altering Year 6 Sat papers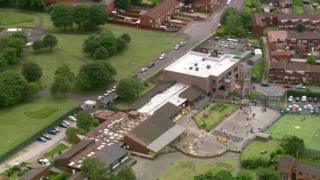 The former head teacher of a Birmingham school has admitted doctoring Year 6 Sats exam papers.
Pupils at Regents Park Community Primary School had their mental maths results annulled after Tina Ireland and deputy Michelle McCusker altered a "significant number" of tests.
Both women admitted the charges at separate National College for Teaching and Leadership disciplinary hearings.
The Department for Education said sanctions had yet to be decided.
'Concealed relevant information'
Disciplinary panels heard Ms Ireland worked with Ms McCusker and "altered a significant number of papers" from exams in May 2013 "in such a way as to improve the marks to be awarded to the pupils concerned".
"As a result of her conduct the entire cohort of Year 6 mental maths SATS papers were annulled, causing a significant impact on the pupils concerned who had worked hard to prepare for these exams," the panel said.
Ms Ireland and Ms McCusker were interviewed by the Standards and Testing Agency in June 2013 over concerns about the tests.
But they "concealed relevant information" and "failed to declare [they had] conspired to amend mental maths exam scripts before submission to the exam board," the panel said.
Both teachers could be struck off after they accepted their actions amounted to "unacceptable professional conduct and conduct that may bring the profession into disrepute".
They stepped down from the Small Heath school in October 2013 as a result of the allegations.
Ms Ireland was named in the so-called "Trojan Horse" letter, alleging an Islamic takeover plot in several Birmingham schools.
The author of the anonymous letter - the authenticity of which has been questioned - claimed responsibility for Ms Ireland's departure.
Regents Park was one of 21 schools investigated by Ofsted as a result of the letter, but was not placed into special measures.
Neither Birmingham City Council nor the school offered a comment on the investigations carried out by government agencies.