Baby born at Birmingham Crown Court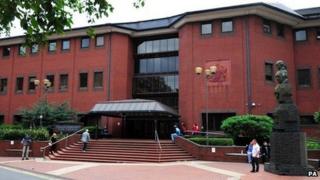 A woman has given birth at Birmingham Crown Court.
The 25-year-old woman was there with a friend who was giving evidence in a trial.
She went into labour in the witness room on Tuesday and paramedics were called.
The baby was delivered by a member of staff in witness services before the newborn girl was taken into a waiting ambulance.
'Judge Judy'
The mother initially refused to be seen by an all-male crew of paramedics which arrived at court at 14:45 BST, so a second ambulance with a female paramedic was called, which arrived at 15:08 BST.
Witnesses said the baby was born before the arrival of the second crew.
"I've never seen anything like that at a court before," said a witness.
He said: "We thought the baby should be named Judy after Judge Judy or maybe Elizabeth because it's the Queen Elizabeth law courts."
Another man said: "I saw two ambulances outside, which I thought was unusual, then I saw the baby being carried down the stairs by a paramedic."
Victim Support West Midlands tweeted its thanks to people who helped inside court.
A spokesman for West Midlands Ambulance Service said they were called at 14:40 BST on Tuesday.
"Two ambulances attended and the baby was born inside the court building," the spokesman confirmed.
"Both the baby and mother were taken by ambulance to Birmingham Women's Hospital.
"A second crew had been requested with a female paramedic on board."
The ambulance service was called to another unusual birth in the city earlier in July when a woman went into labour outside Primark.