Stirling Prize: Library of Birmingham makes shortlist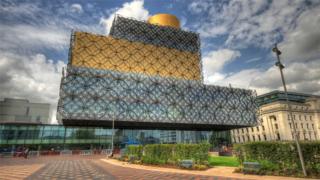 The Library of Birmingham has been shortlisted for the annual Royal Institute of British Architects' (Riba) Stirling Prize.
The city's £189m building opened in September, featuring what judges described as a "Harry Potter rotunda" and "Willy Wonka-style glass lift".
They said it was a "landmark" building and a "bold addition to the city".
Designed by Dutch architects Mecanoo, it is believed to be the largest regional library in Europe.
More than 10,000 people visited the library on the first day alone, while Mecanoo architect Francine Houben described it as a "people's palace".
It joins the likes of The Shard, the London Aquatic Centre and Liverpool's Everyman Theatre on the shortlist for what has become one of the biggest prizes in architecture.
The winner will be announced on 16 October.
Judges described the library as composed of "three stacked boxes adorned with a glittering filigree screen", which its designers said was "inspired by the artisan tradition of this once industrial city".
Alongside the striking, modern touches, it also features the Shakespeare Memorial Room, lined with wooden panels reassembled from the first Birmingham Central Library.
'Distinctive' look
Local writer Yasmin Ali said she was a regular library user and was very fond of the building.
"I love the outside, I think it looks good even next to the older buildings around it," she said.
"In the context of its surroundings, a big square, you need a building that looks distinctive and it works really well.
"The interior is essentially a series of boxes so the exterior decoration is important."
Sara Beadle, programmes director for Writing West Midlands, said the new library was "much nicer" than its 1970s predecessor.
"It's beautiful in certain ways," she said.
"It could be warmer, cosier inside. But the façade is quite sophisticated and sits quite well within the Birmingham skyline."
Not everyone, however, is a fan.
David Mitchell, from Walsall, described the building's exterior as "an eyesore".
"It doesn't fit in with the rest of the buildings," he said.
"All those rings must have cost a lot of money but they don't really do anything.
"I like the inside, though."
---
More on the Stirling Prize
Awarded by Royal Institute of British Architects
Architects must be Riba members to be in the running, and the building anywhere in the EU
Working in partnership with Riba, BBC News will run a series of features on the shortlisted buildings later this year
Find out more about the BBC's coverage of the 2013 Stirling Prize
---