Herd of cows on the loose in Wolverhampton street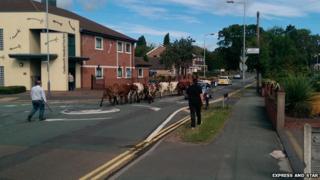 A small herd of cows has been rounded up by police after the animals became loose on a city street.
The officers were called out shortly before 09:00 BST to reports that about a dozen cows were obstructing traffic on Windmill Crescent, Wolverhampton.
By 10:00 they reported the cows had been moved and joked it had been an "udderly unpredictable day".
Local teacher Lynn Young said she and three other staff had kept the cows contained until the police arrived.
"Luckily they were eating the bushes, so every time they wanted to move on we just kept them there," she said.
The presence of a bull in the herd gave her concern though and she was worried about the number of parents arriving by car to drop off pupils.
"If you spook them they do stampede, don't they," she explained.
This was not the first animal-escape the teacher from nearby Smestow secondary school has had to deal with. She said the school had previously dealt with a flock of sheep on the loose.
She said both the sheep and cows reached the street via a canal towpath.