Call for Super Prix to return to Birmingham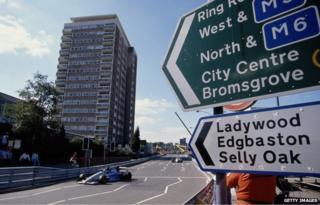 Calls for road races to return to Birmingham have been renewed after the prime minister announced a change in the law.
The Formula 3000 Super Prix was staged in the city between 1986 and 1990 and attracted crowds of thousands.
A petition calling for the event to return has received hundreds of signatures from supporters.
Former councillor John Charlton said he was "cynical" about the prospect of a similar event returning.
'Hugely entertaining'
David Cameron announced new legislation allowing races on public roads on Friday.
Mr Charlton, a member of the committee that organised the original Super Prix, said it had been a boost for the city.
"It was a hugely entertaining event and it brought an enormous number of people who spent a lot of money in the city," he said.
But Mr Charlton said he was not sure if there was the "political will" to stage the event today.
Birmingham City Council's deputy leader Ian Ward said although the announcement enabled other cities to do the same as Birmingham had done previously, all councils faced "the unavoidable reality of reduced budgets as a result of central government funding cuts".
"Major motorsport events require big sponsors and event organisers also always look to local authorities for financial support and backing," he said.
"We are always keen to attract new events to Birmingham, but in this climate, we would need to look at any proposals very closely to see if they were in the best interests of the taxpayer."