HMP Birmingham 'improved' but has work to do, inspectors find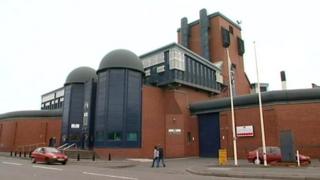 Conditions at HMP Birmingham have improved since a private takeover three years ago, a report has found.
A snap inspection found the prison in Winson Green was "making good progress" since contractor G4S took control, but some problems persisted.
The presence of illicit drugs remained "stubbornly high", while some foreign inmates were negative about their experiences, inspectors said.
G4S said it was "pleased" but would continue to address areas of concern.
'Pressures and risks'
Her Majesty's Inspectorate of Prisons said it found the jail was "calm and ordered" and the number of violent incidents was not high.
It also said relationships between staff and prisoners had improved since its last inspection in 2011.
But it found the safety of new arrivals was a "significant risk" due to a high intake at the prison putting a "great strain" on induction procedures.
It also found "despite some good supply reduction work, the prevalence of illicit drugs remained stubbornly high" within the prison.
Chief Inspector of Prisons Nick Hardwick said the report was "encouraging" overall but said the prison would continue to face "pressures and risks".
A G4S spokeswoman said the company was pleased the report had recognised the progress made at the prison.
"The challenges presented by a transfer such as this should not be underestimated," she said.