Birmingham's Broad Street closed after takeaway fire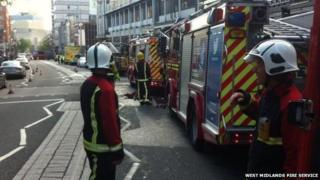 A "suspicious" blaze at a fast food restaurant in Birmingham city centre led to the closure of a major road.
Eight fire engines were called to Food Republic in Broad Street at 06:15 BST.
More than 200 guests also had to be evacuated from the adjoining Hampton Hilton hotel.
Broad Street was closed going out of the city from the junction of Sheepcote Street to Bishopsgate Street and buses were diverted. Firefighter Dave Pitt said the circumstances were suspicious.
He said "moderate" damage had been caused and an investigation would take place to establish the cause.
Among the hotel guests who were evacuated from the building was software consultant Ade Ibironke, who said a fire alarm woke him up at about 06:00.
"No-one's really been telling the hotel guests what's been going on," he said.
"My phone is stuck upstairs so I haven't called anyone yet but I think I need to find another phone as I don't think I will be going inside soon."
Another hotel guest, who spotted the smoke rising outside his window, said: "Thankfully I was up but I opened the door and shouted down the corridor that everyone needed to get out.
"I just bumbled out through the door.
"As we were going down the stairs, the smell of smoke was increasing and a number of staff joined us on the way to the fire exit.
"We were going down and I knew the fire must be somewhere below where my room had been so at that point I felt scared. I did not know if we could get out."
The evacuated hotel guests, who were sent to the nearby Novotel hotel, were allowed to return and Broad Street reopened just after 09:00.