Sparkbrook death: Family 'not told children'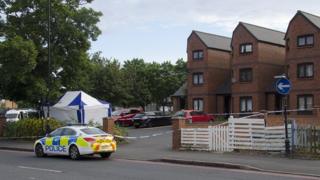 The family of a man stabbed to death say they have not yet told his four children that their father is dead.
Ikram Ullah Khan, known locally as Ikram Elahi, was stabbed in the neck as violence broke out in Sparkbrook, Birmingham, on Wednesday.
Speaking to BBC WM, his family said the 28-year-old was holding down two jobs, working at Asda and as a security guard, to support his family.
His brother Iqbal described his death as "a bad nightmare".
Mr Khan leaves behind four children under seven, including twins.
"They're too young to know, but there will be a time when they'll be asking, 'where's my dad, where's my father gone'," his brother said.
"I just hope we can be strong enough to tell them.
"All we can say is for those people that knew him, pray for him and hope he gets a place in paradise."
'Broken heart'
Two other people were injured - one was slashed and one was shot - when violence broke out on Stratford Road, Sparkbrook, on Wednesday evening.
Police said two men held on suspicion of murder were being treated and would be questioned "once declared fit".
Eight other people have been bailed.
Mr Khan's uncle Noor said he had raised him since he was a baby and was suffering "a broken heart".
He said: "He was working two jobs. He would come home from work and then take his children to the park.
"I don't know where he got his energy from."
Iqbal added: "He was a full of life person. He used to put smiles on people's faces.
"He didn't deserve to die like this. He had a heart of gold."