Sparkbrook disorder: Six more men arrested over death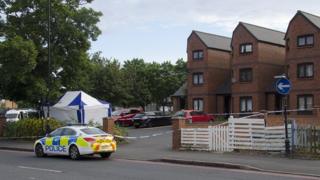 A further six men have been arrested over the killing of a 28-year-old man in the Sparkbrook area of Birmingham.
Ikram Ullah Khan - known locally as Ikram Elahi - was stabbed in the neck on Wednesday as violence broke out between two groups of men, police said.
A 25-year-old man remains in a critical condition with slash wounds, a third is recovering from gunshot injuries.
Friday's arrests take the total number to 10. Six men are suspected of murder and four of attempted murder.
They are all from Birmingham and are aged between 24 and 34.