Woman sentenced for abandoning baby in Birmingham park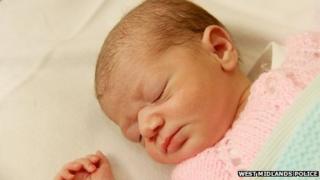 A woman who dumped her newborn baby in a plastic bag in a Birmingham park has been spared prison.
The child, thought to be just 24 hours old when she was abandoned, was discovered by a dog walker in Stechford Park in October.
She was named Jade by hospital staff, after the dog that found her, and later put into foster care.
The 27-year-old mother was given a six-month jail sentence, suspended for two years, with two years supervision.
The woman, who had been suffering post-natal depression, pleaded guilty to wilfully abandoning the baby in a hearing at Birmingham Crown Court in May.
West Midlands Police said the child could have died within an hour if she had not been found, due to her low body temperature.
Baby Jade was discovered wrapped in a towel inside a bag in a bush by Roger Wilday, who was out walking his German Shepherd dog in Stechford Park on 31 October.
Sentencing the mother, Judge Simon Drew at Birmingham Crown Court said she had acted in "panic and desperation".
The court heard she gave birth on the bathroom floor at her mother's home.
She had hidden the pregnancy from her family and did not involve medical professionals because she was scared and feared she could not cope.
The court was also told she had other children and had broken up with their father.
The judge said: "The defendant was suffering from post-natal depression. When her partner left things began to spiral out of control."
He said she feared her children would be taken away from her and decided to conceal the pregnancy.
The court was told that, following the birth, the woman washed and fed the child before taking her to the park.
Judge Drew said the infant was "very young, hours old and therefore very vulnerable".
'Close to death'
Prosecutor Rhydian James said it was a "large stroke of luck" she was discovered
Baby Jade was taken to Heartlands Hospital, where she was put in an incubator, suffering from hypothermia. She was discharged two weeks later.
The baby, now almost nine months old, has been renamed and was in foster care, police said.
Det Insp Richard Cox, who led the investigation, said: "Baby Jade was close to death when she was found, she was blue and cold and medical staff were unable to register a temperature at first.
"Jade was a helpless newborn child, abandoned by her mother on a cold winter's day, in a park in a place where she was not visible to passers-by and where she could easily have been attacked by wild animals."
Police said she was now making good progress.