Dog hanged near Kates Hill Primary School in Dudley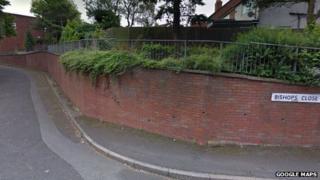 A dog has been found hanged in what the RSPCA has described as a "horrific" and "deliberate" act.
The dead Staffordshire bull terrier/mastiff cross was dangling from a metal chain fixed to railings, near to Kates Hill Primary School in Dudley.
RSPCA inspector Dave McCartney said: "There is no doubt that this was a deliberate act.
"Whoever has done this has lowered the dog over the fence and pulled the chain up and fixed it to the railings above."
The dog was discovered in Bishop Close shortly after 02:00 BST on Saturday.
Mr McCartney, who attended the scene, said: "We won't know all of the physical details about this dog's death until after the post-mortem results come in, but there is no doubt in my own mind that this dog would have suffered.
"We want to find the owner, but we also really need to find whoever was responsible for killing this dog in such an horrific way."
The dog is believed to be between one and two years old.
It was not microchipped.