Syria boy Muadh Zain, 6, 'to live in Birmingham'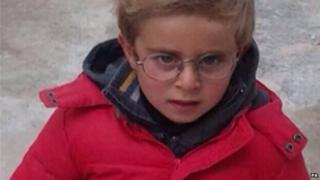 The father of a six-year-old boy, who has spent three years trapped in war-torn Syria, has said his son will return to the UK "for good" to live in Birmingham.
Muadh Zain was born and grew up in Birmingham but had been trapped, along with his mother Doha, inside the rebel stronghold city of Daraa.
His father, Wael Zain, said he had not seen his son since January 2011.
He hopes to see Muadh, who has escaped to Jordan, in the next two weeks.
'Safe and well'
Muadh went to live with his Syrian mother in 2011 after his parents split up.
The pair travelled to Syria shortly afterwards and found themselves trapped in the country after the border with Jordan closed.
Mr Zain, who lives in London and has been campaigning for his son's return, said: "They never left the UK with the intention of leaving permanently.
"They are due to come to the UK in the next two to three weeks - they are just waiting for his mum's visa. As long as they are safe and well, that's the main thing."
Mr Zain said Muadh had been "absolutely traumatised" by his experiences in Syria, which included seeing his uncle killed by shrapnel.
'Plan to settle'
He said: "At first he wasn't able to speak very much. But he is now responding more and playing with other kids in the area and I've been able to speak with him on the phone."
He said he hoped to take a few weeks' holiday to spend time with his son when he returns to the UK.
"The plan is that he and his mum will settle in Birmingham," he said. "My parents and brothers will be there to support them."
The Foreign Office has said it would stay "in touch" with Mr Zain and continue to provide consular assistance as necessary.