Walsall Manor Hospital 'weak leadership' led to foetus blunder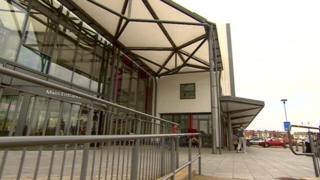 Missing paperwork and "weak leadership" led to the remains of unborn babies being kept in a hospital mortuary for up to four years, a review has found.
Manor Hospital, in Walsall, said miscarried and aborted foetuses were not released for cremation because the correct forms were not filed by staff.
In March it emerged remains of 86 babies had been stored for too long.
The report concluded Walsall Healthcare NHS Trust had "strengthened processes" to prevent a repeat of the incidents.
'Lack of recognition'
Sandra Gray, of Buckley-Gray Consultancy, who carried out the review at the request of the trust, said many factors led to the delays.
Her findings are due to be presented to the trust's board on Wednesday.
Since 15 April, the trust has carried out 81 of the 86 cremations, three burials have been organised and separate arrangements agreed for the remaining two.
The trust said a full training plan was being put in place to ensure lessons were learned.
The report said the trust had "taken very seriously the situation and has taken actions to strengthen... processes and systems".
It added: "The action plan now developed from the external review recommendations will be implemented at pace in order to ensure the risk of such an incident happening again is mitigated."
Hospital chief executive Richard Kirby said in March he was "sincerely sorry for distress caused" and the trust had contacted families directly to apologise.
The vast majority of the samples, 73, were below 12 weeks in gestation.
In total, 52 foetal tissue remains were recent, dating from 2013, but two dated back to 2010.
The trust said it disposed of around 700 foetal remains each year.
Mr Kirby also previously said nobody had been disciplined.
The issue came to light following a Freedom of Information request asking how many foetuses had been retained for more than a month.