Birmingham Kajans school to close after its first year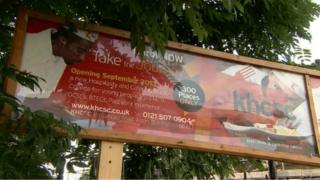 A £2.5m school in Birmingham is to close just 12 months after it opened, because of a lack of students.
The Department for Education served the closure notice because, by April, fewer than 75 people had registered to study at the Kajans Hospitality & Catering Studio College from September.
The acting principal at the Aston school said registration numbers had now risen and would meet targets.
He wants the government to reconsider the closure, scheduled for 31 August.
Dr Kevin Hylands said: "We're angry because this is the only college in Birmingham which offers a vocational education in hospitality and catering for 14 to 19-year-olds and if it closes that opportunity will be taken away from them."
The school was opened by the Kajans Educational Trust after it secured funding from the government.
Hermin McIntosh, executive director of the trust, wants the government to review the closure decision and undertake an impact assessment.
"This community has put in a lot of effort and investment into making this much-needed initiative work," she said.
The school's agreement with the government depended on accepting no fewer than 25 year 10 students and 60 year 12 students every year.
It said it had about 30 new year 12 pupils registered and it was confident of doubling this, once students received their exam results and made decisions about their future.
A Department for Education spokesperson said the closure was "unfortunate", adding: "We must ensure that all projects are viable."
The school offers specialist training in Caribbean cuisine as well as catering courses that combine the GCSE syllabus with paid work experience.
It had aimed to teach up to 300 14 to 19-year-olds. It currently has 48 students.
These people will have to suspend GCSEs and A level studies or complete them elsewhere if the closure goes ahead.
A spokeswoman for Birmingham City Council said it supported the school and had written to Education Minister Lord Nash, asking him to reconsider.
"Our main priority now is looking after the young people that will be displaced... to ensure that placements are found," she added.
A free school in the region is also facing difficulties within its first year.
The head of Anand Primary School, in Wolverhampton, has decided to step down and, according to a Department for Education spokesperson, its management will be transferred "to a new trust with a stronger track record".
The school was branded a 'waste of money' by teaching union the NUT.