HMP Oakwood prisoner Edward Ham dies after ambulance delay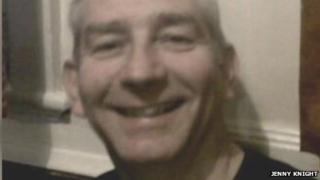 A prison inmate died after it took staff almost an hour to call an ambulance, an inquest has heard.
Edward Stephen Ham, 54, was declared dead in his cell at HMP Oakwood, near Wolverhampton, in February 2013.
South Staffordshire coroner Andrew Haigh ruled Ham had died of natural causes after receiving "sub optimal medical care".
He said a "mix up" between officers and the prison control room meant it took about 50 minutes for 999 to be dialled.
Returning his verdict at Stafford Coroners' Court, Mr Haigh said: "There were a number of failures before and after his death but they should not be considered as gross."
The inquest heard that Ham was taking medication to treat his high blood pressure.
He complained of having chest pains to prison officers at the G4S-operated prison in Featherstone at about 03:30 GMT on 6 February 2012.
He was found collapsed in his cell at 04:52 GMT but the ambulance did not arrive until 06:06 GMT, the inquest heard.
A solicitor representing his fiance, Gloria Payne, and his son, David Ham, said they were considering legal action against G4S and the healthcare trusts responsible for HMP Oakwood.
Charlotte Measures, from Anthony Collins solicitors, said: "Prisoners are entitled to exactly the same standard of healthcare as is available in the community but there were serious failings in this case."
A spokeswoman for G4S said: "We regret the tragic death of Mr Ham and offer our condolences to his family during what has been a very difficult time for them.
"We note the coroner's verdict of death from natural causes and his conclusion that there was no neglect on the part of G4S."
Ham had been sentenced to six years in jail for drugs offences in May 2012.
He was sent to HMP Birmingham in Winson Green, then transferred to HMP Oakwood in November 2012.