Seven-year-old dragged under car in Handsworth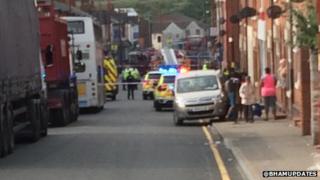 A seven-year-old boy walking to school was dragged for 50ft (15m) when he was hit by a car in Birmingham.
The child suffered "serious injuries" to his face and a fractured arm, West Midlands Ambulance Service said.
His 33-year-old mother, who suffered leg injuries and a suspected broken shoulder, and her four other children, were also struck.
It happened in Nineveh Road, Handsworth, at 08:20 BST. The driver is helping police with their inquiries.
West Midlands Police said a five-year-old boy suffered a minor head injury and an 11-year-old girl suffered "soft tissue damage".
Two boys aged nine and 13 were given the all-clear.
The seven-year-old was taken to Birmingham Children's Hospital while his mother was taken to City Hospital.
The driver of the car, a Vauxhall Corsa, was uninjured but "shaken", an ambulance service spokesman said.
West Midlands Police said she had not been arrested. Nineveh Road was closed for about three hours while the scene was examined.