'Supermen' pulled over by Birmingham motorway police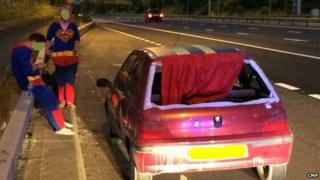 Two men dressed as Superman have had their car seized by police after they were caught driving on the M42 with a fluttering red cape instead of a rear window.
The Central Motorway Policing Group pulled them over near junction four on suspicion of driving without insurance.
A spokesman said "We don't work for Lex Luthor but we had to remove Superman's wheels from the road."
The force also seized a tractor trundling along the M6 on Monday.
"To see such a vehicle travelling on such a busy stretch of road was both unusual and quite a surprise for the patrol officers," said Insp Mark Watkins.
"Tractors are one of the various prohibited vehicles on the motorway network - a fact that the driver seemed to be unaware of."
The images of the "supermen" brought back memories of Del Boy and Rodney's Batman and Robin outfits in BBC comedy Only Fools and Horses, a West Midlands Police spokesman said.
It even prompted the Oklahoma County Sheriff to tweet to his West Midlands counterparts: "Nice work! Not even Superman has a chance against police Kryptonite.
"He's much better at flying than driving, anyway."