A38 Aston Expressway reopens after oil spill crash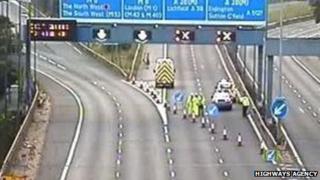 A major link road to the M6 motorway from Birmingham has fully reopened following a crash which spilled oil across the carriageway.
A car crashed into safety barriers on the A38(M) Aston Expressway at about 03:20 BST, police said.
Access roads to the M6 North and South were shut for 10 hours to allow engineers to carry out the clean-up.
Police said attempts had been made to get the road partially open before then but drivers had ignored warnings.
It said: "Attempts were made to keep A38M partially open, but stupidity of a few performing U turns and breaching closures was too dangerous."