Sutton Coldfield could be affected by Birmingham devolution plan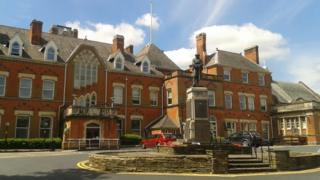 Neighbourhood councils could be set up across Birmingham under plans being considered by the city council.
The authority has announced it is launching a "radical review" of local democracy in the city.
As well as neighbourhood councils, it is also considering the potential for more local bodies to take control of some services.
It comes after Sutton Coldfield residents submitted a petition calling for a town council to be set up.
Birmingham council leader Sir Albert Bore said he would evaluate the town council proposals for Sutton Coldfield.
'Exciting options'
But he said he believed people across the city were keen to have more influence over their local services and more control over their local neighbourhood.
"We have decided that we should be much more radical and take this opportunity to have a wider look at how we organise democracy in the city at the most local level," he said.
"We will be looking at good ideas from around the country and also how they do things in other countries."
Sutton Coldfield's royal status was reaffirmed by the government earlier this month after a two-year campaign.
'Substantial powers'
Sutton Coldfield MP Andrew Mitchell said he liked the idea of a Sutton town council in principle but said more information was required.
"I fear we would not get substantial powers and there be an additional charge on every council tax payer," he said.
But Councillor Anne Underwood, Sutton Coldfield district chair, said: "I believe it would be a mistake to push for a town council, which would have very little influence over the services provided by the city, and which, if established, could stand in the way of an exciting development for Birmingham as a whole and give greater devolution to Sutton Coldfield than it currently has or would have under a town council."
The findings of the city council's review are due out in July 2015.