Benefits Street: 'No second series' in Birmingham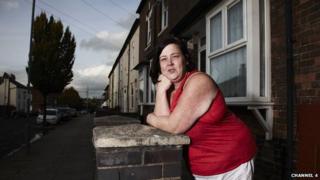 The makers of the documentary Benefits Street have said a second series will not be filmed on a Birmingham road.
Some people living on James Turner Street in Winson Green say they were misrepresented in the Channel 4 show.
They held a public meeting on Thursday to voice concerns after claims that producers had approached local people to appear in a second series.
Channel 4 said it had no plans to film any more of the documentary in Birmingham.
Residents held the meeting at the Oasis Academy Foundry school, on James Turner Street.
Principal Emma Johnson said: "I know full well how detrimental the impact of the first series was... we've had quite enough of lights, camera, action."
"By failing to portray the real story of our community, Channel 4 has broken trust with us and it's time for Love Productions to pack up their cameras for good."
Dee Kelly, who appeared in the first series, using her nickname, White Dee, said: "Producers have had meetings with certain residents in the hope of coming back but because of how we felt we were misled in series one I don't think they got anywhere.
"The TV series has had a major effect; the community spirit has completely gone. People have moved away; it's caused arguments between people; and I do, hand on heart, blame Channel 4."
A spokesman for Channel 4 said: "There are no plans to film a second series of Benefits Street on James Turner Street or in Birmingham.
"Love Productions are currently researching potential new locations for a second series of Benefits Street in other parts of the country."
The production company revealed in April that it was talking to residents on Derby Road, Southampton, to film a follow-up to Benefits Street with the working title Immigration Street.