Morrisons ban £2 coins at some self-service checkouts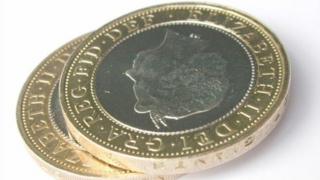 Several Morrisons stores have stopped accepting £2 coins at their self-service checkouts because people have been tricking them with foreign money.
The supermarket chain said it was upgrading its machines, so they could tell the difference.
The problem surfaced in the West Midlands, but has spread to other stores around the country, including some in Yorkshire.
Morrisons would not say how many stores were affected or where they were.
Coins that have similar characteristics to the £2 coin include the Iranian 250 rial, which is worth about a penny, and the Thai 10 baht, which is worth about 18p.
The two euro coin, worth about £1.60, also has a similar appearance.
Jonathan Hilder, chief executive officer of the Automatic Vending Association, which represents 80% of the UK vending market, said most machines recognise coins by their shape.
He said he was not aware of the problem being widespread.
Earlier this year, the Treasury announced plans for a new 12-edged £1 coin which will be made of two metals like the £2 and will be harder to forge when it is introduced in 2017.